Today is the last day of the last month of the year. Wow, how time flies sometimes! :-) I hope everyone is planning to have an awesome New Years Eve celebration. For me, that includes bringing in the new year with some very special, and awesome, friends. :-)
But for today's post, it's time for my "Month in Review" post. I got this idea from Crystal over at
Just Another Book Lovin' Girl
. Thank you bunches, Crystal, for letting me join in!
Many of the book titles or interviews are linked. If you see it highlighted, you can click on it to go and read the review, blog tour, or interview that I did, just in case you missed it when I originally posted.
---
~ Legacy of a Writer's Month in Review - December ~
Books I Read:
Daughter of Helaman
- Misty Moncur
F.A.I.R.I.E.S: Baptism of Fire
- M.C. Pearson
Kingdom's Quest
- Chuck Black (Reread!)
The Merchant's Daughter
- Melanie Dickerson
Princess of Glass
- Jessica George Day
Love Finds You in Annapolis, Maryland
- Roseanna White
Catching Fire
- Suzanne Collins
Unlawfully Wedded Bride
- Noelle Marchand
Kingdom's Reign -
Chuck Black (Reread!)
The Mercenary's Marriage -
Rachel Rossano
Race Against Time
- Kimberly and Kayla Woodhouse
Don't Look Back
- Lynette Eason (Reread!)
Holding Out for a Hero
- Stacey Netzel
Wayward Son
- Tom Pollack
Shadowed in Silk
- Christine Lindsay
Daughter of Twin Oaks
- Lauraine Snelling (Reread!)
Daughter of Time
- Sarah Woodbury
Sisters of the Confederacy
- Lauraine Snelling (Reread!)
Author Interviews Done:
Serena Miller
-
The Measure of Katie Calloway
Roseanna White
-
Love Finds You in Annapolis, Maryland
Rosslyn Elliott
-
Fairer Than Morning
(Ends Tomorrow!!)
Reviews Posted:
Blog Tours Participated In:
GlassRoad Blog Tour
- Wayward Son
Special Events/Posts:
- LoaW's
1st Bookswap
-
Christian Fiction Book Club
for
She Walks in Beauty
- LoaW is hosting the
Contentment Reading Challenge for 2012
(Sign up if you haven't!)
- I won 1st place in
GTW's Writing Prompt Contest
for 2011 (Read some of my favorite prompts!)
- Read my
Top Ten favorite books I read in 2011
- I'm planning
LoaW's 2nd Birthday Party
. Help me spread the word!
- I published a
Christian historical fiction novelette
! Check out my post to find out where you can buy it!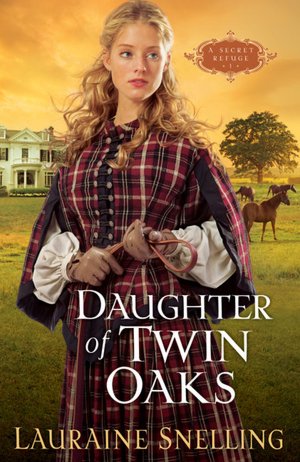 -
7 stories, 7 authors....7 Hours
. This book is gunna be awesome!
My Reading Goals for 2011:
1) Challenged myself to read
200 books
this year......
COMLETED
!! (Read 208 Total :-)
2) For the Contentment Reading Challenge
Amber
hosted this year, I challenged myself to reread
20 books
in 2011. And I.....
completed this challenge last night!!
Favorite Book of the Month:
Love Finds You in Annapolis, Maryland by Roseanna White
Favorite Reread?
Don't Look Back
by Lynette Eason
---
Well, there you have it. That's what took place for me (book-wise) for the month of December. How about you? What books did you read this month?